Gevenalle CX-Specific Jockey Pulleys
Advanced Racing Products Built to Withstand Abuse
Portland, OR – June, 2016 – Gevenalle recently announced the introduction of their cross-specific derailleur pulley set. The set is also available as part of their complete BURD (Blatantly Upgraded Rebranded Derailleur) CX derailleurs.
Gevenalle continues to make a name for itself as the durable and dirt-focused option with products tailored to perform in abusive environments. The team has completely rethought the way shifting, gearing and derailleurs should be designed to better meet the needs of cyclocross.
Designed in collaboration with bearing specialist Kogel, the CX Pulley Set utilizes machined alloy jockey wheels and element-proof double seals. The result is a component that will not only perform better for longer, but also provide ongoing savings by enabling users to service the pulleys and replace the seals as needed.
"Pulleys are a critical point in your drivetrain, and if they fail it is generally catastrophic to both your derailleur and your race. We collaborated with Kogel Bearings of Germany, as we felt they had the most advanced pulleys on the market. The jockey wheels are alloy, not plastic, for longer life in the dirt. Bearing seals are tough and very close tolerance, and while they have a touch more resistance than a clean road pulley, they will run smoother than a dirty road pulley so it is a win-win. On top of the seals are two more machined alloy cover plates to further protect the bearings, and of course, fitting with the Gevenalle philosophy, they are both serviceable and covered by our no questions asked rebuild program."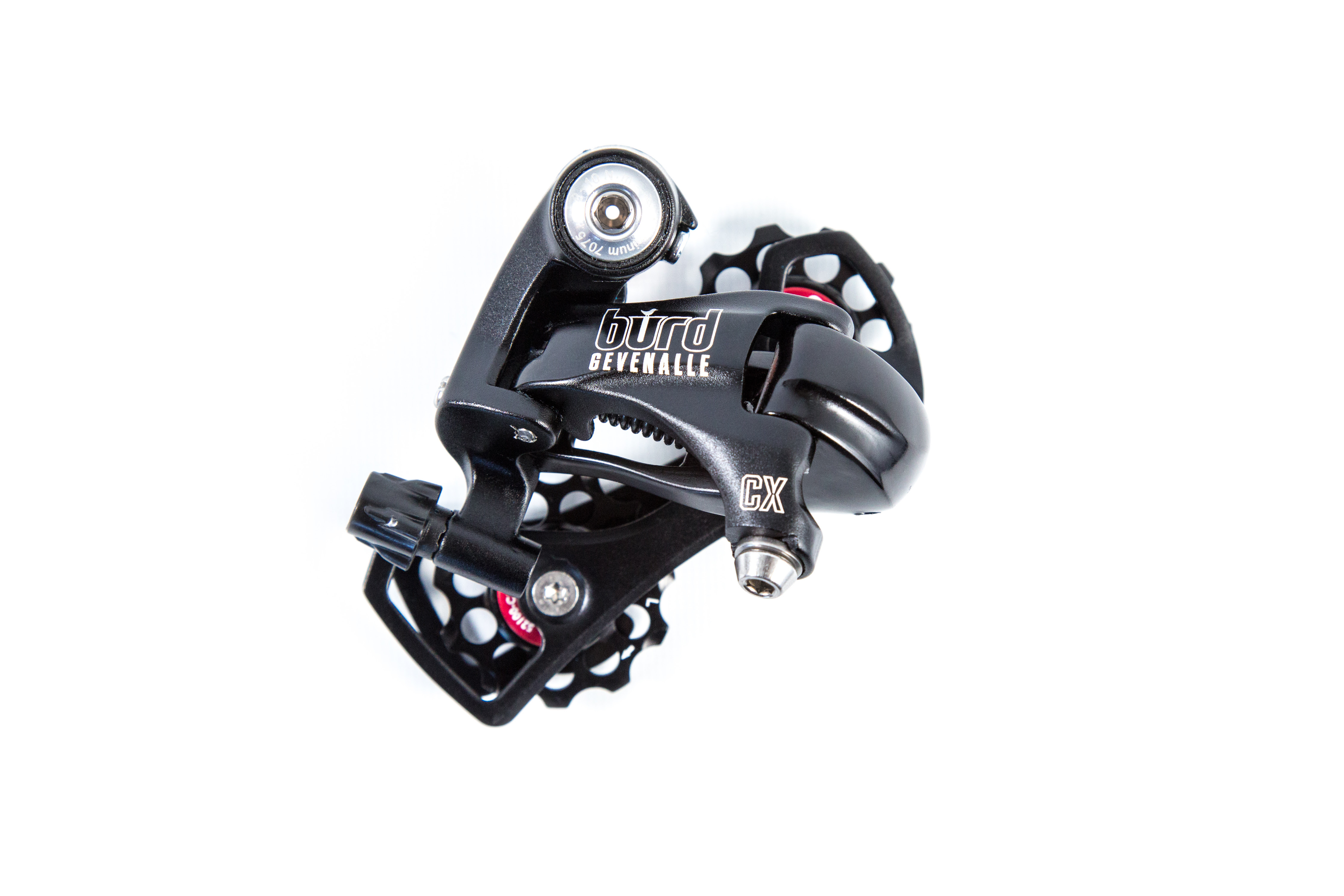 Features:
Alloy jockey wheels for longer life in the mud and grit
Heavy duty bearing seals for better protection against contamination
Additional bearing protection provided with machined alloy cover plates
Replaceable bearing seals for easy user servicing
Compatible with Gevenalle BURD and Shimano derailleurs
Price:
$69 – CX Pulley Set
$99 – BURD rear derailleur with Gevenalle CX pulleys
$6 – Replacement seal sets. (it will be a while before you need them as seals are reusable, and derailleur and pulley sets ship with an additional replacement set)

Add to this Gevenalle's $34 rebuild service should you somehow wreck a pair, and you are well ahead of the competition. While a majority of brands expect you to ride and replace your parts when they break (as they are not often serviceable) Gevenalle hopes you prefer to simply Ride, Repair and Repeat!
About Gevenalle: Founded in 2011, Gevenalle is based out of Portland OR, making innovative and durable shifting solutions for cyclocross, as well as offerings for gravel/touring and urban cyclists. Products are assembled in Portland OR using foreign and American made parts.